Show Your Support!
Proceeds assist us in funding:
NH D.A.R.E Program for drug education
Scholarship Program for High School Seniors
Line of Duty Death Benefit
Children's Hospital Dartmouth and many other programs
Donate $25 above and we'll mail you one of our
2018 Supporter Decals!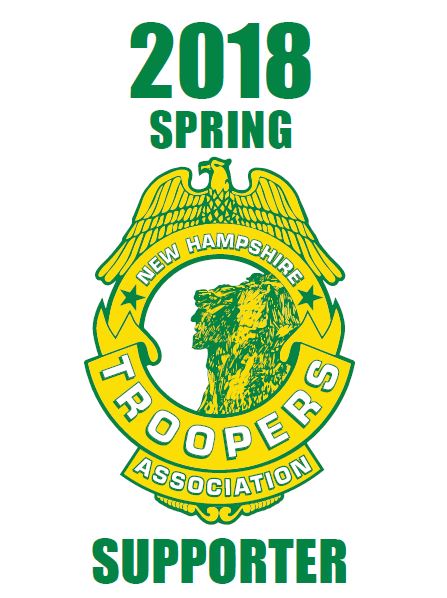 The New Hampshire Troopers Association is a non-profit 501c-5 organization that represents state and local Law Enforcement Officers throughout New Hampshire. To verify the legitimacy of any phone call you have received from us please call us at (603) 792-0451. The proceeds of our fundraising activities help fund a variety of non-tax funded programs that benefit our members and all citizens in New Hampshire. Our programs include scholarship programs, charitable donations, and assistance to the families of fallen police officers.
The New Hampshire Troopers Association raises money through a limited amount of fundraising activities. Aside from the New Hampshire Troopers Golf Classic, we're currently raising support from the business community through our Trooper Magazine, while also appealing to our citizens by conducting a telephone campaign where we're raising support through the sale of supporter decals for your car window. These are the only approved fundraising campaigns we're conducting so please be mindful of other calls you may receive stating that they're supporting the New Hampshire Troopers Association.
The support we raise through our Magazine and ticket voucher sales benefit programs that include, but aren't limited to:
NH DARE - programs to educate the children in NH of the dangers of Drugs and Addiction.
Children's Hospital at Dartmouth (CHaD)
As New Hampshire's only comprehensive, full-service children's hospital, the Children's Hospital atDartmouth-Hitchcock (CHaD) provides an extended system of care that offers advanced pediatric services.
Scholarship Program: $2,000 is proudly given to multiple New Hampshire high school graduates who will pursue a degree in Law Enforcement or Criminal Justice.
Line of Duty Death Benefit: We pay for the all funeral costs of a NH Trooper killed in the line of duty, and further assist their families in their time of need.
For information on how to get your window decals, please email us at fundraiser@nhtrooper.com or call (603) 792-0451 during regular business hours.
The New Hampshire Trooper Magazine seeks advertisers to help maintain its publication. It has been brought to our attention that various groups are calling on businesses throughout the state which falsely claim to be, or to represent the New Hampshire Troopers Association. In order to assist our business supporters verify the legitimacy of a contact they have received, we have established an 800 number as a verification line for the New Hampshire Troopers magazine. If you have any suspicion or doubt as to the legitimacy of the person or organization soliciting your support, please do not hesitate to call. The number is 1-800-769-6482 or if you are outside the state of New Hampshire 603-736-8469.
Our online store offers a variety of fine products where you can proudly display your support of New Hampshire Troopers. Proceeds from the sale of merchandise helps to pay for scholarships as well as the Survivors' Fund which helps families of our fallen Troopers.
Occasionally the NHTA participates in special sporting events, such as when Troopers took on the Boston Black and Gold Legends (Former Boston Bruins). Please continue to check our website for dates and times of upcoming tournaments.
If you have any questions regarding fundraising activities on behalf of the NHTA, we encourage you to contact the NHTA Office in Concord at (603) 228-8228. We appreciate your consideration and your support!
Page Last Updated: Jul 27, 2022 (17:55:45)